Pediatric Feeding Therapy Services
We work with toddlers, children, and adolescents
Our feeding team, comprised of Speech Language Pathologists and Occupational Therapists, apply principles from advanced training (Sequential-Oral-Sensory "SOS", Beckman Oral Motor, etc) to evaluate and treat patients with feeding concerns. We work with toddlers, children, and adolscents who experience difficulty with acceptance of new foods/textures, commonly referred to as "Problem Feeders", patients who have feeding disorders, known as dysphagia, as well as mother's with difficulty breastfeeding.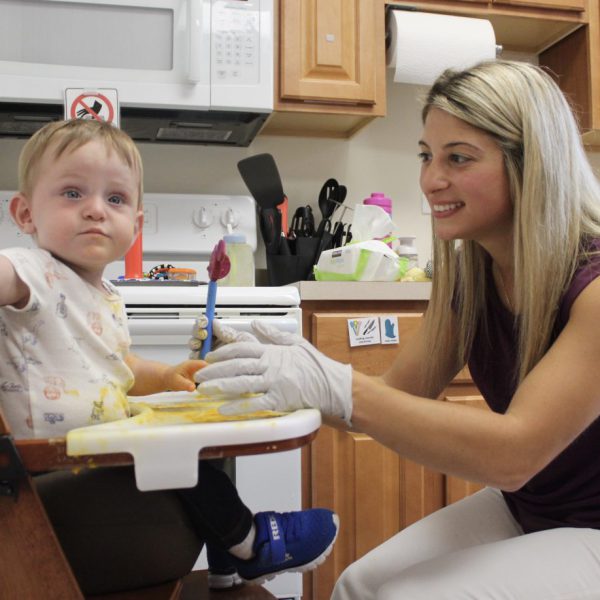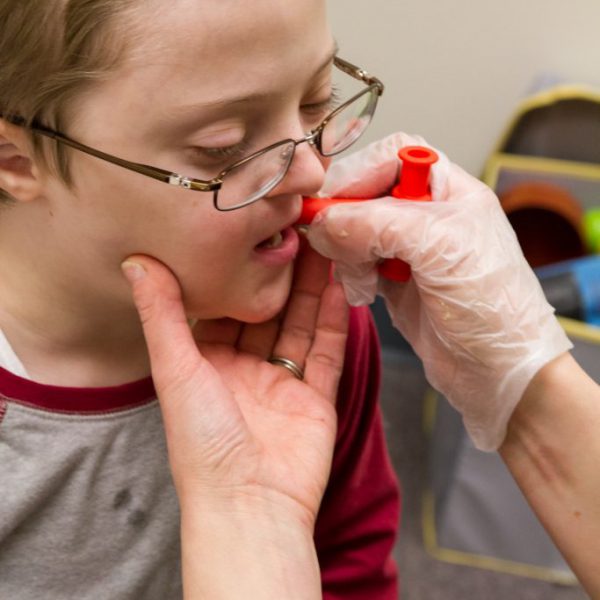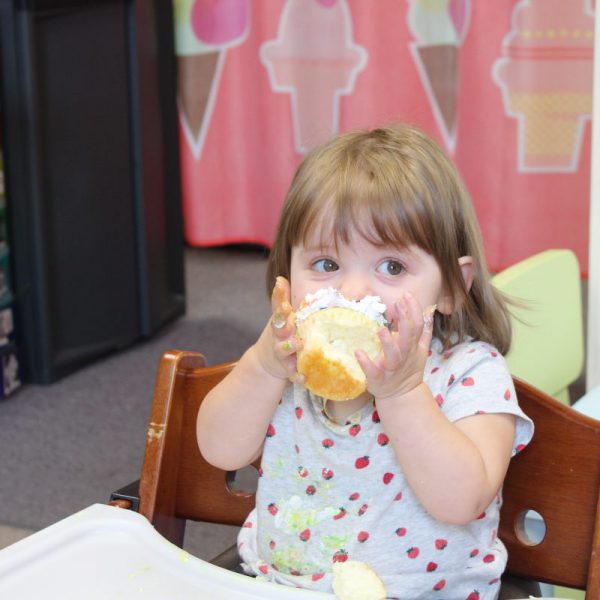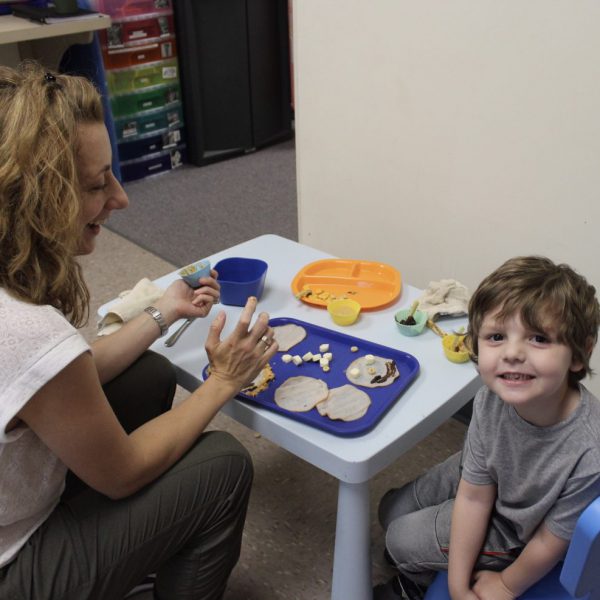 Learn more about problem feeders, dysphagia and lactation counseling
Problem Feeders
Children who require professional feeding intervention demonstrate concerns beyond being picky.  Many children prefer certain foods and can be stubborn when new foods are presented.  Problem feeders present with signs/symptoms that are much more severe such as:
Diet consisting of less than 20 foods
May lose foods that were once accepted and do not reacquire them
Refuse foods even when hungry
Demonstrate behaviors (crying/tantrums/withdrawal) associated with eating or just being in the presence of food
Unwilling to try new foods after many presentations
Dysphagia
Dysphagia can occur at different phases including oral, pharyngeal and esophageal.  Our therapists specialize in treating oral phase dysphagia which includes sucking, chewing, controlling food inside the oral cavity and moving food or liquid into the throat to successfully swallow.
Some signs/symptoms that may be exhibited due to oral phase dysphagia may include:
Food or liquid leaking from the mouth
Food or liquid scattering in the mouth
Pocketing food inside the cheeks
Reduced sensitivity- Difficulty feeling food and therefore cannot control it
Difficulty chewing due to weaknesses in oral musculature
Lactation Counseling
Breastfeeding provides a mother and baby with best possible nutrition and several other health benefits that begin from the moment of birth. When encountering difficulty, we are able to provide Certified Lactation Counseling services. Combined with training as feeding therapists, we are able to assess and treat a variety of concerns related to latch, milk production, oral motor skill, muscle tone, and positioning, all of which may be impacting the breastfeeding process.
Once your baby is here, we can help if you or your newborn are:
Experiencing a painful latch
Difficulty maintaining a latch
Showing limited weight gain
Fussy or discontent following a feed
What causes feeding and swallowing disorders?
The following are some causes of feeding and swallowing disorders in children:
nervous system disorders (e.g., cerebral palsy, meningitis, encephalopathy)
gastrointestinal conditions (e.g., reflux, "short gut" syndrome)
prematurity and/or low birth weight (history of intubation or feeding tube)
heart disease
cleft lip and/or palate
conditions affecting the airway
autism
head and neck abnormalities
muscle weakness in the face and neck
multiple medical problems
respiratory difficulties
medications that may cause lethargy or decreased appetite
problems with parent-child interactions at meal times
Sensory Processing Disorder
New client feeding evaluation forms
To assist you with getting the most out of your first feeding therapy visit, please print and complete the age appropriate evaluation form:
Feeding Evaluation Questionnaire 0 – 6 Years 
Feeding Evaluation Questionnaire 7 Years and older 
In order to obtain a clear picture of your child's needs, our therapists will complete an evaluation.  We will obtain medical history and a food diary, discuss symptoms, and gather information regarding overall development.  The therapist will then conduct an assessment to look at the strength and movement of the muscles involved in the oral phase of feeding as well as observe feeding to see your child' s posture, behavior, and oral movements during eating and drinking.
If feeding therapy is recommended, we will work closely with both the child and family to develop an individualized treatment plan. The following are examples of areas that may be the focus of intervention:
making the muscles of the mouth stronger including the jaw, lips and tongue
increasing tongue movement to better control food inside the oral cavity
improving chewing for various types of textures including soft and crunchy
strengthening the core muscles that promote optimal positioning for feeding
increasing acceptance of different foods and liquids
improving sucking and/or drinking ability
providing sensory input to increase awareness or decrease sensitivity in and around the mouth
improving self feeding skills
As a physical therapist at Cheshire Fitness Zone, I have seen firsthand the positive impact therapy services have had on so many children and their families. We are very family-oriented at Cheshire Fitness Zone and are constantly working with our families to help reach their goals for their children. It is an extremely rewarding feeling to see a child learn mobility skills that they were unable to perform prior to starting therapy services. The staff at Cheshire Fitness Zone is dedicated to providing the best care possible for all the children that they work with.
My twelve year old daughter has been seeing Craig since she was four years old and she loves coming to the 'gym.' I love that she refers to it as the 'gym' instead of therapy. She sees her therapy as a place where she works her body to become stronger and has fun. She is disappointed if therapy is canceled. The staff is wonderful and works to find the right fit with each child and therapist. They work across modalities and communicate with the school and her doctors. I am thankful to have Cheshire Fitness Zone in my daughter's life! Thank you!
My family has been blessed with this amazing crew at Cheshire Fitness Zone for almost five years. My daughter started PT at six months of age when we discovered unexpected delays. The staff from day one has gone above and beyond to help my daughter to be where she is today. They are not only extremely knowledgeable in their individual fields, but make everyone who walks through their door feel welcome and cared for. After the past five years, I consider these individuals like family. They have taught me so many ways to help my daughter and also to strive for the best and prepare for her future. I would highly recommend Cheshire Fitness Zone to anyone who needs services for their children. We appreciate it more than you'll ever know.
The physical therapists at Cheshire Fitness Zone are warm, caring individuals. They have worked with my daughter for about a year and a half now and she has made tremendous progress building her core strength, coordination, balance, and overall strengthening. I recommend them highly.
Cheshire Fitness Zone therapists offer hope, encouragement, and creativity. They deliver on persistence, personal gains, and individual growth because they genuinely care. In spite of working on the steps to tie his shoes for over six months at a different facility, at Cheshire Fitness Zone Erin never lost hope or let him quit. Although he had no idea each week she worked on skills that when put together would tie a shoe. She approached the idea of tying many times only to be met with complete resistance and totally shutting down. Then one day he came to me after his session and said, 'Hey mom, guess what? I can tie my shoes.' When I saw the pride in his eyes and the encouragement on Erin's face I knew he had done it. It was one of the happiest moments of his childhood. What a gift…self-pride and independence.
Cheshire Fitness Zone has tremendously helped not only our two children receiving services, but our entire family. The atmosphere in the clinic is friendly, supportive, and understanding. Their office staff is amazing and accommodates each family's schedule and needs. Our children receive speech, OT, and PT services. Every one of the therapists they have worked with has been wonderful and our children have made incredible progress. The kids also love going to all of their therapy sessions because the therapists make each and every session fun and exciting. We are so fortunate to have found Cheshire Fitness Zone and recommend it to any family looking for services for their children.
We have been coming to Cheshire Fitness Zone for fifteen years. Our son has a motor dyspraxia which causes challenges with posture, upper body strength, and affects his fine motor skills too. After coming consistently every week for 1-2 visits he has surpassed many of his physical challenges. Now as a young man he takes physical challenges like 5k's and bike challenges with a smile. We are grateful to the many physical therapists he has had over the years. Each of them has encouraged him and pushed him to improve in a gentle, but firm way, and always with a sense of humor. Our son looks forward to coming every week.
My son has greatly benefited from OT and PT at Cheshire Fitness Zone. The therapists are so patient and knowledgeable. The facility is also very impressive and fun. We look forward to seeing our son progress as we continue therapy.
We have been coming to Cheshire Fitness Zone for more than two years. The therapists are friendly, compassionate, and professional. Not only do they do a fabulous job with the therapy, but they also consider the individual behavioral needs for our son. They are caring while pushing him to achieve goals that at times he might feel he can do and he does. Thank you to Craig and the staff for all that you do!
Highly recommend. The warm, loving atmosphere sets the tone for these highly motivated therapists to do their thing. The office staff is top notch as well!!
Request An Appointment With Us Online Today