Orange Pediatric Therapy (OPT)offers a multitude of therapeutic programs that uniquely meet you and your family's needs.
OPT was designed specifically for children and adolescents of all ages and abilities.  We feature three main therapy areas to include physical therapy (PT), occupational therapy (OT) and speech therapy (ST).  Our physical therapy gym has a full array of exercise equipment biomechanically designed to fit children as well as a 32 foot long rock climbing wall.  In addition, our physical therapy space has a baby-friendly room and a private treatment room.  Our occupational therapy space features two sensory gyms and two fine motor rooms.  The speech department boasts a number of individual treatment rooms.
Each therapeutic program is individually designed to meet the needs of our clients. Our professional staff has many years of experience working with children.
We serve the communities of Cheshire, Meriden, Hamden, Wallingford, Prospect, Waterbury, Southington, New Haven, Woodbridge, Durham, and surrounding counties.  We have facility locations in Cheshire, Meriden, and Orange Connecticut.
Please contact us if you have further questions regarding our services.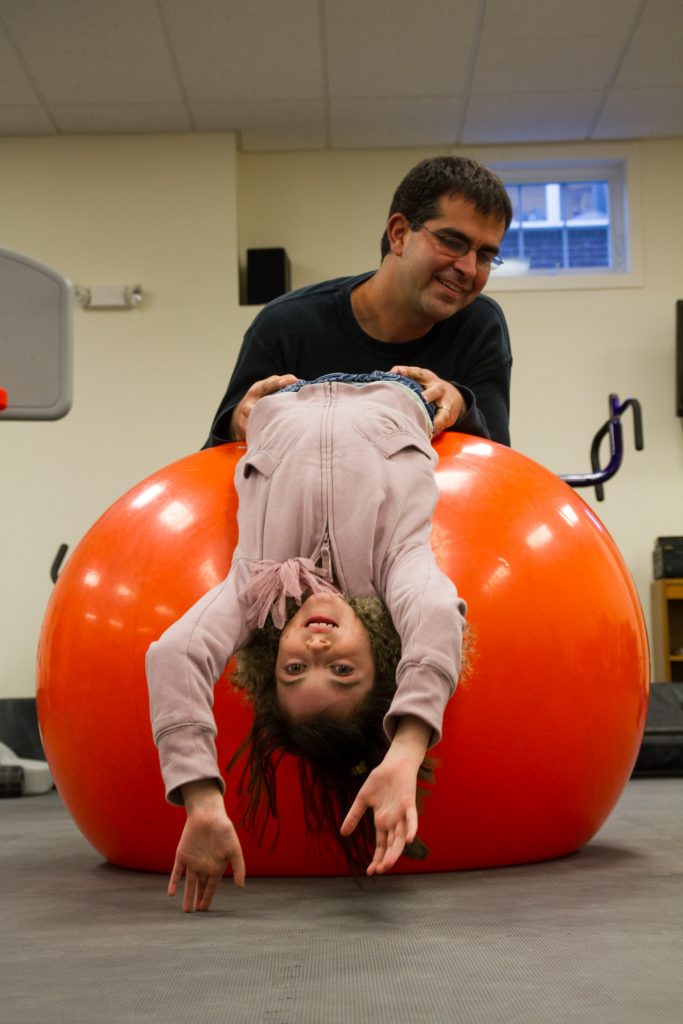 Craig graduated from Thomas Jefferson University with a Master's degree in physical therapy in 1996.  He opened Cheshire Fitness Zone in 2001. Craig has dedicated close to 20 years offering therapy services to children of all abilities.  In addition to owning Cheshire Fitness Zone, Craig is a Part Time Faculty Member in the Department of Physical Therapy at Quinnipiac University.  Craig specializes in working with children of all abilities including developmental delay, neurological impairments, torticollis, sports injuries, and seating and positioning.
Learn more about our extraordinary team!
Frequently Asked Questions
Our therapists and staff are here to serve your child's needs and support the family. Below is a list of commonly asked questions on our office procedures and policies. Select the +/- signs to expand and contract the question of interest. If you don't see an answer to what you're looking for, don't hesitate to contact us.
We do offer services at an out of pocket cost.  Please checkout the 
Insurance Plans
 we do accept, or 
contact us
 for current out of pocket rates.
Our therapists generally treat clients from 8:00 am until 7:00 pm, Monday-Friday, and 8:00 am to 1:00 pm on Saturday, although this does vary by location.  Morning hours do vary depending on individual therapist schedules as well as during school vacations.  Read more about our 
hours of operation
 by location.
Our primary facility is located in Cheshire but have a satellite location in Meriden and Orange, as well.  We also offer several therapy options throughout schools in the surrounding communities for your convenience.  Obtain address and/or directions to our different 
locations
.
Cheshire Fitness Zone has been absolutely wonderful for my family. All of the staff and therapists treat the children with respect and truly care about their development. The therapists are always available to ask questions and are extremely knowledgeable. The front desk staff alway works to accommodate our schedule and are always friendly and kind. I always refer Cheshire Fitness Zone to other families who are looking for services for their children.
We have been coming to Cheshire Fitness Zone for more than two years. The therapists are friendly, compassionate, and professional. Not only do they do a fabulous job with the therapy, but they also consider the individual behavioral needs for our son. They are caring while pushing him to achieve goals that at times he might feel he can do and he does. Thank you to Craig and the staff for all that you do!
I honestly can't thank you enough for all the time you spent with us and the very valuable advice that you gave.
We can't thank you enough. I don't think we would be where we are if it wasn't for your care, guidance, and support for Cole and us.
As a physical therapist at Cheshire Fitness Zone, I have seen firsthand the positive impact therapy services have had on so many children and their families. We are very family-oriented at Cheshire Fitness Zone and are constantly working with our families to help reach their goals for their children. It is an extremely rewarding feeling to see a child learn mobility skills that they were unable to perform prior to starting therapy services. The staff at Cheshire Fitness Zone is dedicated to providing the best care possible for all the children that they work with.
My girls have been going to Cheshire Fitness Zone since the summer of 2015 and the therapy they receive from their therapist is the best therapy they have ever received. The therapists are the friendliest and nicest group of therapists we have ever met. The girls enjoy going to therapy and I am very happy that we go to Cheshire Fitness Zone.
My son has greatly benefited from OT and PT at Cheshire Fitness Zone. The therapists are so patient and knowledgeable. The facility is also very impressive and fun. We look forward to seeing our son progress as we continue therapy.
Cheshire Fitness Zone has tremendously helped not only our two children receiving services, but our entire family. The atmosphere in the clinic is friendly, supportive, and understanding. Their office staff is amazing and accommodates each family's schedule and needs. Our children receive speech, OT, and PT services. Every one of the therapists they have worked with has been wonderful and our children have made incredible progress. The kids also love going to all of their therapy sessions because the therapists make each and every session fun and exciting. We are so fortunate to have found Cheshire Fitness Zone and recommend it to any family looking for services for their children.
Everyone at Cheshire Fitness is always so friendly and welcoming. They provide a wonderful atmosphere for the children and are so supportive. The best gift anyone can give a parent is caring for his or her kid and helping his or her kid to live to their greatest potential and that is exactly what the therapists at Cheshire Fitness Zone do. They truly care and we will be forever grateful for the tools they have provided our child.
I am privileged to work with amazing children, wonderful families, skilled therapists, and professional staff each day at Cheshire Fitness Zone. We are a team working toward the best possible outcome for each unique child. I am so thankful to be a part of such a special place.
Request An Appointment With Us Online Today